Best Advice for a Safe and Long-Lasting Roof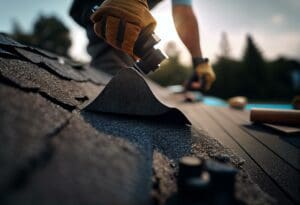 Roofing is not only an essential part of any home or commercial building, but it can also increase your home's value. With proper care and maintenance, your roof can provide you with years of protection and comfort. However, if neglected or installed incorrectly, your roof could pose severe risks to your safety and well-being. To help ensure that you stay safe while enjoying the benefits of a long-lasting roof, our team has compiled the ultimate guide to the dos and don'ts of roofing. In this article, we'll share expert advice on everything from selecting materials to choosing contractors so that you can make informed decisions for a sturdy and durable roof that stands the test of time.
Choosing the Right Roofing Materials
Selecting the right roofing material can be a daunting task, as it involves balancing durability, efficiency, and style. Asphalt shingles are one of the most popular options due to their affordability, versatility in design choices, and relatively long lifespan. Metal roofs offer even greater longevity while being more eco-friendly. They also come in a range of styles from traditional metal panels to modern standing seam designs. 
When selecting roofing materials, it's essential not to overlook energy efficiency. Cool roofs help reduce air conditioning costs by reflecting sunlight away from your home or building. Materials like slate and clay tiles have excellent insulating properties but can be expensive upfront. On the other hand, wood shingles provide natural insulation but require regular maintenance.

Ensuring that your roof suits both your stylistic preferences and practical needs while working with professional contractors is crucial for a safe and long-lasting investment. By keeping these factors in mind during your decision-making process, we hope you have everything you need to choose the right roofing materials for you!
Safely and Properly Installing Your Roof
The first crucial step of roofing installation is to choose the right materials. The quality of your roof's materials will determine its durability and longevity, so prioritize high-quality options that can withstand weather conditions in your area. Additionally, it's essential to ensure proper ventilation during installation to prevent condensation build-up and further damage.On the flip side, there are several things you should avoid when installing a new roof. For instance, don't attempt DIY installations if you lack experience or training. Leave such tasks for expert roofers. Additionally, never rush the project as this could lead to mistakes and safety hazards such as falls from heights or accidents with tools.

Early on in the process of roofing installation, hiring experienced contractors becomes necessary. It is also important not just to hire based on affordability but also ensure that they possess relevant licenses and insurance coverage for work-related risks. By following these tips carefully during a roofing project, homeowners can have confidence in their roofs' safety and maintenance all year round by lowering potential dangers posed by poor installations.
Maintaining Your Roof for Longevity 
To maintain your roof's longevity, it's important to take proper care of your roofing system. One crucial step is to regularly inspect your roof for damages, leaks, or cracks that may compromise its integrity. If any issues are detected during inspection, you should get them repaired as soon as possible by a professional roofing contractor. Another important factor in maintaining a long-lasting and safe roof is choosing high-quality materials. The right choice of material can provide durability against harsh environmental conditions and enhance your home's value. Furthermore, it would be best to avoid making changes or modifications on the installed roofing system without consulting an expert. Missteps in DIY projects that require cutting into roofs could lead to safety hazards or unintended costly damages.

By following these guidelines regarding the do's and don'ts of roofing maintenance throughout the lifecycle of a residential or commercial building, property owners will make sure their investment not only meets expectations but exceeds them while ensuring safety always comes first when protecting loved ones from unforeseen accidents due to neglecting such precautions mentioned above.
Hire Our Roofing Contractor for Your Roof Installation
Hiring the right roofing contractor is crucial to ensuring a successful roof installation. At R.L. Hayes Roofing & Repairs, we prioritize safety on the job site and follow industry standard protocols. With more than three decades of roofing experience, you can count on us to provide excellent service and ensure your peace of mind throughout your roofing project. We are honored to serve homeowners in August, Evans, Grovetown, Martinez and North Augusta. When planning your next roofing repair or roofing replacement, be sure to call us at 706-869-1193 or visit us online for a free quote and more information. We look forward to serving you!
R L Hayes Roofing & Repairs
3540 Wheeler Rd Ste 103
Augusta, GA 30909
(706) 869-1193
https://rlhayes.com/