5 Tips for Hiring a Professional Roofing Contractor You Can Trust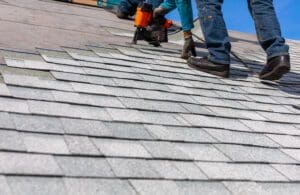 When it comes to any type of home improvement project, hiring a professional contractor is paramount. This statement rings particularly true when your roof needs fixing, as neglecting necessary repairs or choosing an unskilled contractor could result in disastrous consequences for you and your family. But with so many contractors to choose from, and the abundance of horror stories about fraudulent companies operating within this industry, how can you find a trustworthy roofing contractor? In this article, we'll delve into five tips that will guide you towards finding a dependable roofing expert who can meet all of your repair or replacement needs in a safe and efficient manner.
Evaluating a Contractor's Credentials
When evaluating a contractor's credentials, it's important to take several factors into consideration. Firstly, ensure that the contractor possesses all necessary licensing and certifications as required by your state or local government. Secondly, research the company's reputation by reading customer reviews and checking their standing with relevant industry associations. In addition to verifying licensing and assessing reputation, it's important to assess the experience of prospective contractors. Ask for references from previous clients and inquire about past projects completed in your area. This will give you an opportunity to gauge their level of expertise in handling roofing jobs similar in scale and complexity to yours.

Ultimately, selecting a reputable roofing contractor requires careful evaluation of various criteria. By conducting thorough research related to each factor outlined above, you can protect yourself from fraudulent contractors while ensuring quality workmanship on your roof repairs or replacements project.
Checking for Proper Insurance and Licenses
Before hiring a roofing contractor, it's important to ensure they have proper insurance and licenses. Insurance protects both the homeowner and the contractor in case of accidents or damages during the project. Without liability insurance, you could be held responsible for any injuries sustained by workers on your property. Worker's compensation insurance covers any injuries sustained by employees while working on your roof. Licensing ensures that the contractor has met certain standards set forth by their state or local government. This includes passing exams, providing proof of insurance, and meeting specific experience requirements. 
By checking for proper licensing and insurance before hiring a roofing contractor, you can protect yourself from potential scams or subpar workmanship. Don't be afraid to ask for documentation – a reputable contractor will have no problem providing it.
Understanding the Contractor's Work Process
One key aspect of finding a trustworthy roofing contractor is to understand their work process. This will give you an idea of what to expect from the company, and ensure that they are following industry standards and best practices. A reputable contractor should be able to provide you with a clear description of their work process, outlining each step in detail – from initial assessment and estimate, through completion of the project. Once you've hired a roofing contractor, it's important to stay involved in the process. Ask questions along every step of the way to make sure everything is staying on track, and that any changes or issues are communicated clearly by your contractor. Make sure that any agreements or warranties are put down in writing so both parties have a clear understanding of expectations for the job at hand. 
By understanding your roofing contractor's work process, staying informed about progress throughout construction, and keeping lines of communication open between yourself and the team working on your roof repair or replacement project, you can ensure peace-of-mind as well as quality results.
Obtaining References and Reading Reviews
Obtaining references is a crucial step in finding a trustworthy roofing contractor. Ask friends, family members, or neighbors who have recently had their roof repaired for recommendations. You can also consult with local hardware stores or home improvement centers for contacts to reputable contractors. It's advisable to request at least three references from any prospective roofing contractor and make sure you call the references to inquire about their experience working with the contractor. Reading customer reviews is another vital tool when trying to find a dependable roofing contractor. There are numerous websites such as Google Reviews, AngiesList, HomeAdvisor that allow customers to leave feedback on services they've received previously. Take some time to read through several of these reviews and look out for patterns in negative feedback such as recurring problems with materials used, poor communication skills or lack of punctuality by service providers – this data should inform your decision-making process so you know what kind of company goes above and beyond compared against competitors while successfully delivering satisfactory results consistently over time which will ultimately help determine the best-qualified candidate for this job!
Contact A Professional Roofer for a Quote Today
Our expert team at R.L. Hayes Roofing and Repairs would be happy to provide you with our credentials and references. With more than 35 years in the roofing business, we understand how important it is for homeowners to do their due diligence before hiring a roofing company to repair or replace one's roof. Fortunately, our customers' reviews speak for themselves. Be sure to check those out and contact us today for a quote for roof replacement or repair services in Augusta, GA and surrounding areas.
R.L. Hayes Roofing & Repairs
3540 Wheeler Rd Ste 103
Augusta, GA 30909
(706) 869-1193
https://rlhayes.com/