Fall is Coming: Here's How You Can Prepare Your Roof For the New Season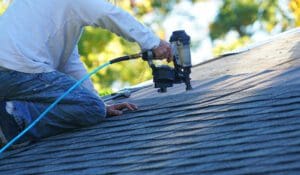 Summer in Georgia is only a few weeks from going away and letting autumn take over the next few months. In fact, the cooler mornings and less humid afternoons may have been evident to residents in recent days. While there are still rainy days ahead, there are some hints of fall already with falling leaves on people's lawns. 
Fall is certainly quite welcome after experiencing temperatures in the 90's for what seems like weeks on end. It is also that time of year when we should not just be bringing down the bins with our warmer clothing from the attic, but also making sure our house will be ready for the elements. 
It is never too early to start preparing your roof for bad weather. Below we have highlighted 3 things you should do to prepare your roof for fall: 
Check Your Attic Insulation and Ventilation
While you are up in your attic gathering the bins of fall decor items and clothing, be sure to pay attention to the airflow.  Is there adequate air flowing in your attic? If the answer is 'no,' you may be experiencing higher energy bills and potential roof leaks during storms. 
During the day, the sun hits your roof and heats up the air in your attic. However, if you do not have proper venting at the soffits, ridges, and/or gables of your roof, that hot air will then condensate. This would in turn cause moisture damage and possible mold or rot in your roof's supports. The heat can also cause ice dams in higher elevations, inviting leaks when ice accumulates on your roof.
Furthermore, when that hot air has nowhere else to go, it will overheat your living space, which would cause you to use your AC more than you have to. That means an unnecessarily high energy bill each month! This is one of the major reasons why insulation is so important for an energy efficient home.
To inspect your attic insulation and ventilation more thoroughly, you can hire a professional roofing contractor to do the inspection and make necessary modifications. 
Clean Your Gutters
Leaves and debris like acorns will make their way into your gutter system. Unfortunately, there is just no way around it. So when they end up in your gutter and that goes unchecked long enough, it will clog the downspouts. The end result will be that rain water will overflow the gutters, which would cause damage to your roof, trim and siding. 
Another thing to consider is that the additional weight of the wet leaves and water could also make your gutters pull loose from the anchor point or even collapse altogether.
To avoid these problems, make sure to keep up with your gutters so they are clear of debris through the fall season. After the trees around your home are bare, be sure to do a thorough cleaning. 
If you wanted to, you could also see about having gutter screens or guards installed to prevent the debris from collecting in your gutter system.
Remove Debris from Your Roof 
Debris such as pine needles and the leaves and acorns we mentioned already will also end up on your roof's surface. So in addition to maintaining your gutters clear of debris, you will have to do the same with your rooftop itself. Believe it or not, small pieces of debris can hold moisture and even rot or mold, which would be able to break down your roofing material.
If you're comfortable with walking on your roof, you can get up there and broom or use a leaf blower to blow off the debris that has collected on your roof. While up there you should do the same to the valleys, which are very vulnerable to water damage. 
However, if you or your spouse would rather leave it to a professional roofer to do, that is part of our most roofing company's maintenance services, including R.L. Hayes Roofing & Repairs. We even treat roofs for moss, which is ideal to do in areas with moist climate.
Whether you or a roofing contractor clears the roof, before getting off the roof a last step would be to survey the surface of the roof for any missing or broken shingles as well as damaged flashing around vent stacks and chimneys. Inspecting that from the ground would not be efficient. 
Fortunately, R.L. Hayes Roofing & Repairs is available for your roofing repair and maintenance needs any time of year. If you live in and around the Augusta, Georgia area and need a roofer for a repair or an entire roof upgrade, contact R.L. Hayes Roofing & Repairs today. Our experienced Augusta, GA roofers will give you a great estimate for your roof! 
R L Hayes Roofing & Repairs
3540 Wheeler Rd Ste 103
Augusta, GA 30909
(706) 869-1193
https://rlhayes.com/