What to Expect from Your Roofer: A Professional Guide to Meeting Your Roofing Needs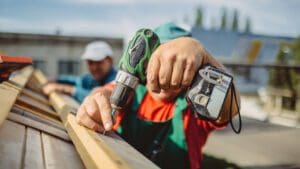 A roofing project can be a daunting task for any homeowner so finding the right roofer who understands your specific needs is crucial. Homeowners need to have confidence in their choice of contractor and trust that they'll provide high-quality work within a reasonable timeframe. 
This professional guide aims to assist homeowners in their search for the perfect roofer by highlighting what they should expect from them. In this article, we explore critical factors like experience, communication, safety measures, licensing and insurance requirements as well as other essential elements that separate a qualified and trustworthy roofer from one who falls short of expectations.
Experience and Credentials
When looking for a professional roofer to handle your roofing project, experience and credentials are important considerations. The best way to assess a roofer's experience is by asking for their portfolio of completed projects or reading online reviews from past clients. A roofer that has worked on similar projects as yours before will have the knowledge and skills necessary to deliver quality work.
Credentials such as licensing and insurance are also essential in ensuring that you're working with a legitimate contractor who meets all legal requirements. A licensed roofer means they passed state certification exams, while an insured one protects you from liability should any accidents occur during the project. So when seeking the right professional for your roof repair or installation needs, conduct extensive research, ask plenty of questions, and don't forget about verifying their licenses and insurance status.
Communication 
Communication is a vital aspect of any successful roofing project. A good roofer should keep their clients informed throughout the entire process, from the initial consultation to the completion of the project. This includes providing regular updates on progress, potential issues that may arise, and any changes to timelines or budgets. Regular communication helps homeowners to feel more at ease with the work being done on their property and provides an opportunity for them to ask questions or address concerns along the way. It also allows for more efficient decision making, as both parties can collaborate on solutions together in real-time.

When searching for a roofer, it's essential to find someone who values strong communication skills just as much as they prioritize professional expertise. Being proactive with your communication expectations upfront will help ensure you find a contractor that can meet your unique needs and provide peace of mind throughout your roofing project.
Safety First
When hiring a roofer for your home, safety should be at the forefront of their work approach. Your roofer should have a clear understanding of how to create and maintain a safe work environment while conducting roof repairs or installations. Safety measures such as utilizing protective gear like helmets, gloves or goggles are essential during any roofing project. Additionally, ladders need to be secured and positioned appropriately so there is less risk of falls or accidents. 
Another important factor in maintaining safety on the job site is good communication between workers themselves and with homeowners. Roofers need to have an open dialogue with all parties involved about potential hazards associated with their work. This helps ensure that everyone is aware and can take appropriate precautions when necessary. Homeowners who communicate their concerns early on give contractors ample time to plan accordingly which can prevent unforeseen issues from arising later on in the project timeline.
Protecting Your Investment
Protecting your investment is of utmost importance when it comes to roofing projects. Hiring a roofer who has the proper licensing and insurance requirements is essential to ensure quality workmanship, safety and legal compliance. A licensed and insured roofer will not only provide peace of mind for homeowners but will also protect their property from damage or liability claims. 
Licensing ensures that a roofer meets certain professional standards and regulations set by the state, which guarantee quality service delivery. Insurance coverage protects homeowners from any accidents, injuries or damages that may occur on their property during the project execution. By understanding these licensing and insurance requirements upfront, homeowners can make informed decisions when selecting a qualified roofing contractor who will complete their project professionally within budget and time constraints.
Hire a Professional Roofer Today
With more than 35 years of experience in roofing, R.L. Hayes Roofing & Repairs is as professional as roofing companies come. Our knowledge of home construction allows us to properly and accurately diagnose any roofing issue you may have. We are proud to serve homeowners in August, Evans, Grovetown, Martinez and North Augusta. When planning your next roofing repair or roofing replacement, be sure to contact us at 706-869-1193 or visit us online for a free quote and more information. We look forward to serving you!
R L Hayes Roofing & Repairs
3540 Wheeler Rd Ste 103
Augusta, GA 30909
(706) 869-1193
https://rlhayes.com/