How You Can Ensure Your Roofer Did an Excellent Roof Repair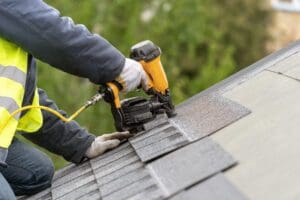 You did your due diligence and researched several roofing companies in your area and decided to go with the roofer that came highly recommended by many neighbors, family or friends. You even read their online reviews for good measure. Of course, you also made sure they were licensed and local. 
Because it is such a huge project with a huge budget to go along with it, you wanted to be 100% sure the roofing contractor you were hiring, out of the dozens you looked into, was the right choice. This is heavily emphasized because you had heard some horror stories of bad workmanship from a friend of a friend. Unfortunately, this is also one area of the home where it isn't uncommon to find shoddy workmanship. 
You expect your roof to not only look beautiful but also perform as protection over your entire home. If the repair is poorly executed, it will lead to more costly problems in the future, including structural damage because of problems including leaks and humidity. 
Now if you're wondering how you can actually verify if your roofers did an excellent roof repair, you certainly can. You really don't have to be a contractor yourself to notice if something is off. All you need to do is look out for a few major signs, which we will share with you below. 
Your Roof Appears Even and Uniform in Appearance
Once a roof repair or installation has been completed, make sure to take a good look at your roof. Believe it or not, many homeowners fail to do a thorough visual inspection of their roof after a project is finished. Ultimately, your roof should appear uniform throughout. An uneven appearance is a dead giveaway that you've had a bad roofing job. Another thing to look for is if your roofline is sagging or asphalt shingles are not uniform in color. For instance, your roof should be done in the same materials.
As the main feature of your roof, the shingles will do all of the heavy lifting in making sure your home is free from moisture. A professional roofing contractor will begin the installation from the bottom of the roof to the top. 
Your Roof Has Drip Edge Flashing
Drip edge flashing is a material that roofers should install at every edge of your roof. The reason for that is to prevent water damage to your home as well as guard against pest infestations in the attic. While drip edges are a requirement for roofing shingles, many homeowners would not be able to tell whether or not their roofs have drip edges or not. It is typically not until they are experiencing leaks or moisture problems that they realize they do not have drip edges.  
This metal flashing that fits between the shingles and the underlayment is essential in carrying water away from the home and making sure that gutters work as they should. An expert roofing contractor will always use a drip edge to seal and protect the roof.
Your Roof will Have Effective Flashing Practices
As you may already know, water leaks are the leading cause of damage to the home and roof. This is why an excellent roofer will install sufficient metal flashing around areas such as pipes or chimneys. Keep in mind that chimneys require step flashing and counterflashing because one sheet of metal won't be sufficient .
Roofing companies that attempt to take shortcuts will try to substitute metal flashing with roof cement or caulking. While these sealants may work short-term, they won't get rid of leaks for the long term. If your roof edges touch walls, they should also boast kick-out flashing which stops water from entering and running down exterior walls.
Roofing contractors may also try to reuse flashing materials from other jobs. A qualified roofing company will never reuse flashing materials and will always replace rusty flashing and replace new vent pipes if existing units have broken down. To take it one step further, you'll know your roofers did an excellent job if they also use rodent covers to prevent rodent damage and debris from entering into plumbing pipes.
Be sure to contact R.L. Hayes Roofing and Repairs if you need roof repair services in and around Augusta, GA.
R L Hayes Roofing & Repairs
3540 Wheeler Rd Ste 103
Augusta, GA 30909
(706) 869-1193
https://rlhayes.com/