Roof Inspection: What to Expect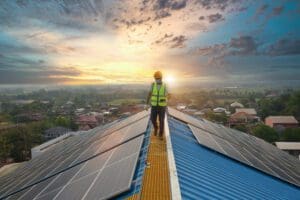 It's difficult to understand your roof's condition just by looking at it from the ground. Roof repair and a full replacement by a roofer can break the bank, so having professionals conduct regular roofing inspections can save you from future costly repairs. Trust us! 
Prospective homebuyers should schedule a roof inspection as part of an overall home inspection before purchasing a home so that potential repairs can be added to the home's cost. We would say this should be at the top of the home inspection list. 
Existing homeowners should get roofing inspections before and after winter or when they suspect damage following a storm. 
In any case, keep reading to understand why you should get your roof inspected as a buyer or owner!
Ensure Proper Drainage
Few aspects of roofing performance are as critical as ensuring proper drainage. Why? That is because water-logged roofs can greatly increase the chance of moisture penetration and leaks. 
Regular roof cleaning helps prevent debris and other objects from clogging drains and allows a free flow of water, as intended.
Find Roof Problems
In addition to detecting regular roofing problems, roof inspections can help prioritize roof repair and other projects. 
The most common roofing problems include:
Leaking or cracking in the roof

Missing shingles

Plant growth

Shingle granules found in the gutter

Roof drooping or sagging

Buckling or curling shingles
Assess Leaks
Leaks after heavy rains are the primary trigger for most roofing system inspections. However, the leak could be just a symptom of a much larger problem like corrosion, rotting wood, wet insulation, or mold that has been building up undetected over time. An experienced roofer can perform a comprehensive leak investigation to resolve the issue before it worsens.
Stop Structural Damage
A leaking roof is not the only initial sign of damage. Other structural damage could exist, making an inspection critical to detect minor problems before they do excessive damage to your home. Inspectors could find roof layout faults and suggest repairs.
Perform Warranty Repairs
Your roof might have damage for a variety of reasons, and only some may be covered by your warranty. Call a professional to conduct a roof inspection to determine if it is beneficial to file a warranty claim. Once filed, the contractor will inspect the site to decide if the damage is covered under warranty.
If you suspect roof damage or want to be sure to follow a regular maintenance schedule, it is important to have roofing professionals come out to conduct a thorough inspection. R.L. Hayes Roofing & Repairs can inspect your roof for damage and help with any roof repairs you may require after going over the details of the damage. You can contact us at 706-869-1193 or you can visit us online for a quote and more information.
R L Hayes Roofing & Repairs
3540 Wheeler Rd Ste 103
Augusta, GA 30909
(706) 869-1193
https://rlhayes.com/