10 Questions to Ask a Roofer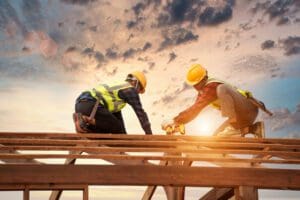 Just like there are filter settings when you do a home search on apps like Zillow to find the right homes that meet your specifications, there is a way to filter out roofers – the good from the bad. Truly, the more questions you ask, the more peace of mind you'll have, but we compiled a list of 10 questions you'll definitely want to ask a roofer before you sign a contract with just any roofing contractor. If you want to ask more, that's definitely fine to do. 
Below we have the questions and a brief tip about each question: 
1. How many years of experience do you have? 
The rule of thumb is a minimum of 5 years. With at least that many years of experience, roofing professionals have worked on a decent amount of roofs to better recognize issues and how to address those issues.
2.Where is your business located?
This question is not for you as the client to be able to physically visit the client's physical location. It is to know if the roofing company is actually located in your area, even state. Local is always best. 
3. Do you work with subcontractors? If so, what is their background?
It is just as important to know the experience of your subcontractors as it is to know your experience. 
4. Are you licensed? 
Not every state requires it, but if your state does, you'll want your roofer to be (if your state requires it) licensed and we can assure you that a professional roofing company will be licensed and willing to show proof of that.
5. Do you have liability insurance?
With the risk involved in having people on your roof where accidents are likely to happen, it is more than fair to ask if a roofer has liability insurance. 
6. What is the estimated timeline for the project?
The timeline provided to you for a project will depend on what the project entails. Believe it or not, a roof replacement should not take more than 1-5 days to complete. However, the weather and other factors can cause the project to take up to 2 weeks, maybe 3. Any longer than that and that should be a red flag. 
7. What is the pricing for roof replacement?
This is usually going to be one of the first questions asked and understandably so. We know a roof repair or replacement is not going to be cheap. The national average for roof replacement is about $8,000 but homeowners can spend up to $11,000 depending on the home's square footage and the type of roofing material that is desired. If you are quoted much less than the national average, that would be questionable. 
8. Can you share a few references for homeowners you recently did work for?
Before you even ask this question, the roofing contractor should have the answer ready to be given to you. Google reviews work as well, but receiving references is a way the roofer can go above and beyond. 
9. What are your terms of service? 
By terms of service we mean things like fees for changing and/or canceling a contract. Basically, what is in the fine print? Transparency on the part of the roofer is obviously key. If they are not upfront about something, all trust goes out the door. 
10. Do you offer a warranty?
While a roof warranty usually lasts for a year, there are some roofers that offer longer warranties. The roofer covers the work while the manufacturer covers the roofing materials. Because those are two separate warranties, you will want to ask the roofer for the coverage and length of each warranty. Keep in mind though that an extended warranty can increase the total cost of your estimate.
Checklist of What Should be on a Roofing Contract
Even after asking all these questions and more, you should receive a written contract and have the ability to ask any questions about things on the contract before you sign it. If a contractor gives you a hard time about your request, it's a sign you should not hire them.
Here is what your contract should include:
Cost breakdown

Scope of Work

Project Timeline

Materials

Permits to be obtained by the contractor

The promise of a lien release from subcontractors and suppliers

Payment terms and schedule

Terms for changing orders or canceling the project or Terms of Service

Contractor information including their license

Insurance and bonding
If your contract doesn't include these important pieces of information, that is not the right roofer for you. At R.L. Hayes Roofing & Repairs, we pride ourselves in being transparent about our process from start to finish. Be sure to call us at 706-869-1193 or visit us online for a quote and more information.
R L Hayes Roofing & Repairs
3540 Wheeler Rd Ste 103
Augusta, GA 30909
(706) 869-1193
https://rlhayes.com/