Roof Dry Rot: What You Need to Know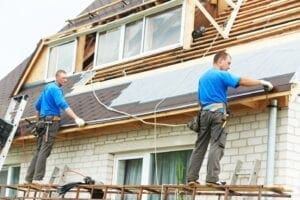 If you have ever noticed rot on your roof, you likely have become worried. A rotted roof is a homeowner's worst nightmare, especially if you have no idea what to do about it. In this guide, you will learn more about dry rot, the ways to get rid of it, and the steps you can do take to prevent the rot from taking over.
What Is Dry Rot?
Dry rot is from the deterioration of roofing materials caused by fungus, typically including the wooden features of your roof. You will notice your roof crumbles and begins to fall apart if you touch it. One of the biggest problems with dry rot is the fact that water can seep into the roof and cause intense water damage. In some cases, roofs have caved in because of the water that goes inside.
Additionally, dry rot can lead to additional damage if you do not remove any rotted debris from your roof. Water can clog from debris, and it could leave water stagnant on your roof. Eventually, it may seep into your shingles and into your home.
Dry rot is often from lack of ventilation, especially in the attic of the home. Sometimes, humidity in the attic is also linked to high attic temperatures and the lack of ventilation. Fortunately, you can fix the problems that eventually lead to dry rot.
How Can You Prevent Dry Rot?
Dry roof rot is preventable, so long as you take the necessary steps. For example, one way to keep your roof away from the dangers of rot is to ensure you keep your attic at a moderate temperature throughout the year. The goal of this climate control is to ensure humidity does not build up in your attic and cause moisture.
You will also likely want to check out the ventilation on your roof. Vents and attic fans keep your roof well-ventilated so that humidity does not sit inside the attic.
How Can You Spot Dry Rot?
Early detection is a great way to ensure your roof is in good shape, so schedule your yearly maintenance to keep your roof in great shape. A roofing specialist will spot dry rot immediately and recommend suggestions to prevent the issue from arising again.
You may even be able to spot dry rot yourself. Signs of dry rot include missing shingles, damaged roof flashing, water damage, mold, and algae. If you reach to touch parts of your roof, you may feel them crumble in your hand. The roof will not appear wet and moldy like most types of rot, but the problem is still from moisture in your roof, so dry rot is often confusing.
How Can You Remedy Dry Rot?
One of the first things a roofer might do to remedy dry rot is remove the parts of the roof with problems. Sometimes, homeowners choose to replace the entire roof, while others may opt for a partial repair. Keep in mind that dry rot travels easily, so you could easily miss the early stages of dry rot throughout the rest of the roof.
Keep in mind that failure to take care of the ventilation issues in your roof may lead to more dry rot in the future. Do not stop at roof replacement if you have not yet addressed other issues that caused your roof to rot in the first place.
R.L. Hayes understands that dry rot is difficult to deal with, regardless of its cause. You do not have to deal with dry rot on your own. Call us today to discuss your options for managing your concerns.
R L Hayes Roofing & Repairs
3540 Wheeler Rd Ste 103
Augusta, GA 30909
(706) 869-1193
https://rlhayes.com/